For delivery call: 807-622-8880 or email: admin@sasi.ca! Five unit minimum. A delivery fee of $4.90 + HST applies.
SASI offers large-bottle and small pack cases delivery service within the City of Thunder Bay and surrounding areas serving residential customers on a phone in or email request
Businesses and Organizations are also offered regular routine schedules so that you know your water service will be automatic
Bottled Water delivery service is available from SASI Water - Monday to Friday between the hours of 8am - 4pm
Interested in taking advantage of SASI home or office Delivery Service?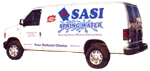 Call us today!
Regular 18.9L bottle delivered price - $9.00/bottle
Regular 11.4L bottle delivered price - $7.00/bottle
Delivery pricing is based on a minimum order of five bottles per delivery. Delivery charge of $4.90 + HST applies.